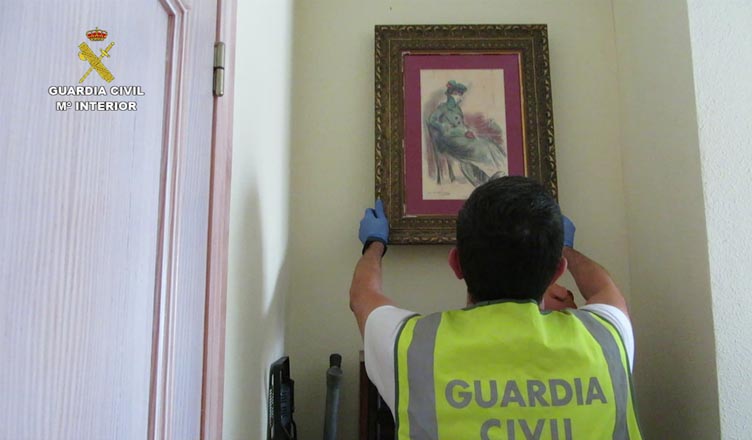 Alicante's Civil Guard in Alicante has arrested a Spanish man aged 51, as it continues to investigate two others, a 37 year old woman of Brazilian nationality and another Spanish National on suspicion of several counts of theft, aiding and abetting, the illegal possession of weapons, crimes against cultural, historical and artistic heritage and fraud.
Investigation first began after the allegation of the theft of nearly 400 bee hives on farms located in different municipalities of the Vega Baja. The thefts occurred in the towns of Formentera de Segura, San Isidro and Guardamar del Segura over the last 18 months. It would appear that the group were both selling the hives and claiming that they had been stolen, thus also profiting from fraudulent insurance claims to a value of approximately 21,000 euros.
However, during the investigation, there were a number of additional offences that surfaced suggesting that they were involved in other shady deals.
It appeared that one of the trio, from Almeria, was a builder. He also ran an antique shop, which could be used as a cover for the sale of stolen goods.
Agents discovered that he was offering various pieces of art at knockdown prices for between 3,000 and 18,000 euros. Among the items for sale was a well known wooden carving of the Immaculate Virgin, dated between the seventeenth and eighteenth centuries, originating from la escuela Granadina de Alonso Cano
The man was also involved in the robbery of a house in a town of Almería, which took place in 2006, from which several firearms had been stolen, so the agents suspected he could be armed and dangerous.
On obtaining a warrant and searching the house of one of the accused, in addition to 171 beehives and 45 honeycombs, officers found about thirty priceless objects of art, among them paintings by Cecilio Plá, Chinese historical vases, elephant tusks measuring nearly two meters, a metre high bronze horse, an extensive collection of coins and a sword carved from bone.
Many have since been moved to the Department of Culture of the Provincial Council of Alicante where they are being examined to determine their value.
A further house search in the Orihuela village of Mudamiento uncovered further weapons including a Benelli rifle, a KRICO carbine, a Franchi shotgun and an automatic Walther pistol, all from the 2006 burglary of the house in Almeria.