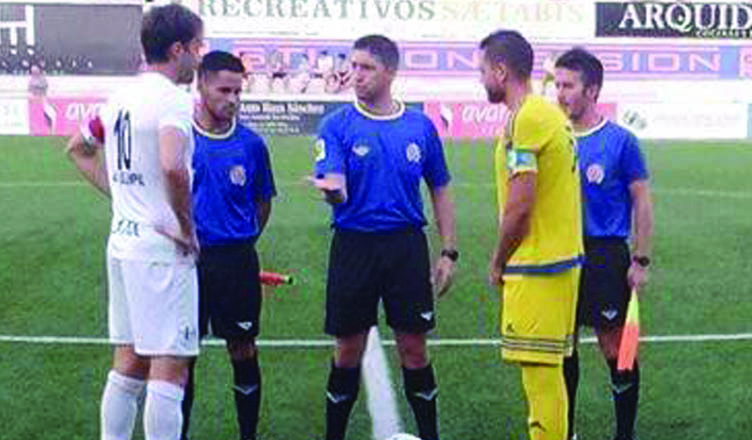 Steve Hibberd writes …….Not only were Torry faced with an uphill struggle against a side that was sitting pretty near the top of the table, that hadn't conceded a goal all season, and were nailed on favourites to make a quick return to div 2b, but they had also received earth shattering news from the Valencian FA.
Having dismissed Almoradi´s appeal that Torry played an illegible player in the opening 3-2 victory at Vicente Garcia Stadium, they then performed a u turn and awarded the result to Almoradi.  This verdict must be gut wrenching to not only the players that fought hard to achieve the result, but the supporters and club officials must be pretty damned unhappy as well.
Recriminations on who was to blame are now totally irrelevant, but one thing´s for sure – this season is an uphill struggle from now on.  Following this humiliating 3-0 drubbing, in which Gabi Correa´s men failed to record a single shot on target, Torry now find themselves firmly rooted to the foot of the table with zero points, and a goal difference of minus 10.
Senor Correa must be a worried man, for after only 4 games, his position must be in jeopardy, for at the last home match ex manager Pedreno was seen sitting with the club president and directors.  I wonder why that may be?
As for the game, well Torry were poor, no they were atrocious!!  Multiply changes were made from the previous weeks drubbing, but alas this did not include the impressive Costa, who during the week suffered a horrendous Cruciate ligament injury on the training ground.
The first half didn't really get to life until the 16th min, when Moscardo unleased a rocket shot from the edge of the box which Torry Keeper Marcano did well to punch away.  Unfortunately it didn't take long for Olimpic to go ahead, for on 26 mins a defensive error by Luis Carlos allowed Marc Cosme an opening to shoot past Marcano from the edge of the box.  On 33 mins, the same player faced with a 1 on 1, thankfully shot just wide of the far post from a similar position.
Olimpic continued in the same vein in the 2nd half, but on 73 mins, Torry had a glorious chance to equalise.  An exquisite cross from the right by Vicente, found Carrasco unmarked no more than 5 yards from goal, but alas his hurried shot spooned over the bar with the goal at his mercy.
Two minutes later, another defensive mix up, this time between Martin and Luis Carlos, allowed Olimpic sub Juanma a chance which he took with aplomb.  With 10 mins to go, Martin allowed Corbalan an opportunity from which Marcano made a great save, but from the very next attack, a right wing cross was superbly converted by Moscardo, putting the game out of Torry´s reach.
Torry have a midweek home fixture at Nelson Mendela Stadium on Weds 14 Sep, ko 6.30.  Because of an odd number of teams in div 3, next weekend is Torry´s turn to put their feet up, and watch the telly, as they have a free week.