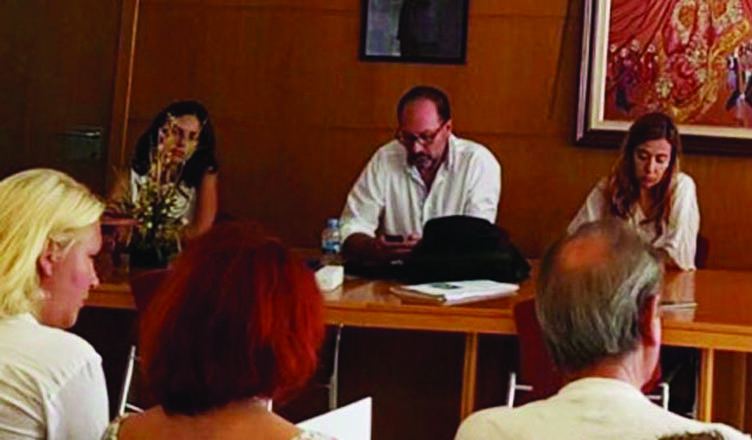 A public hearing took place in the Playa Flamenca office of the Town Hall on 2 September.   It was attended by the Mayor of Orihuela, the Budget Councillor and several other councillors including the Councillor for the Coordination of the Coast.   The hearing offered the opportunity for coastal residents to make proposals for next year's municipal budget.   There was a good attendance and participation from political parties, the Federation of Associations of Orihuela Costa and a number of individual residents.
On behalf of C.L.A.R.O., Bob Houliston presented a 10 page document to the Mayor and members of the government.    It covered a wide range of subjects and contained 18 specific proposals.
By way of introduction, Bob Houliston said C.L.A.R.O. welcomed this opportunity for residents of Orihuela Costa to make proposals for next year's budget.   Orihuela Costa with over 30,000 registered residents, equal to Orihuela city, and some 50,000 rate paying property owners accounted for 60% of the revenues of the municipality but received less than 10% of the value of municipal services.    There was a huge deficit of services and investments.   The prospects for next year's budget were expected to show a €10 million increase in the income of the municipality compared to the present budget approved in 20012, mainly due to an expanding coastal population and a revival of construction in Orihuela Costa with the corresponding increase in municipal revenue from building taxes.
Moreover, according to reports, there would be some €10 million available for investments, principally revenue from the sale of land in Orihuela Costa some years ago.   There had been general political consensus that 40% of the proceeds from the sale of land would be devoted to investments in Orihuela Costa.   The 2017 budget would therefore be an opportunity, Bob Houliston said, to begin to redress the historical deficit of services and investment in Orihuela Costa.
The C.L.A.R.O. proposals contained in the document presented to the Mayor covered 6 main areas.
Infrastructure, street maintenance, street cleaning and rubbish removal
C.L.A.R.O. urged the government to finance the so-called "via paralela" a long standing project to complete an internal road, parallel to the N332, extending from La Regia to Los Balcones.    This project was urgently needed to reduce congestion on the N332 aggravated by the opening of La Zenia Boulevard Commercial Centre.    Two pedestrian footbridges were urgently needed.   One over the motorway between La Regia and Lomos de Cabo Roig where pedestrians are obliged to use an increasingly busy road bridge which exposes them to serious danger.
A pedestrian footbridge was also needed in Alameda del Mar where pedestrians from highly populated urbanisations risk their lives crossing the N332 to go to the beach.   Finally, the notorious problem of deficient street cleaning and rubbish removal had to be tackled with greatly increased financial and material resources.    An Ecopark where green rubbish could be shredded and converted to saleable pellets for fuel or fertiliser, as in Pilar de la Horadada, could profitably help solve the problem of uncollected green rubbish which is a constant eyesore in Orihuela Costa.
Parks and Gardens
Lack of maintenance and investment in Orihuela Costa's so-called parks and gardens, often no more than wastelands, resulted in an appearance of environmental neglect and abandon.    Only half of the so-called parks and gardens are covered by the existing maintenance contract.   Since 2015 it is a legal obligation for local governments to maintain ALL public parks and gardens, irrespective of their administrative status.   Sufficient budgetary finance is imperative to improve the state of Orihuela Costa's parks and gardens.
Emergency Services Centre
It is essential to complete the construction of the Emergency Services Centre started as long ago as 2007.      There is no local police office open when the Playa Flamenca office of the Town Hall closes at 3 p.m. each working day, only police patrol cars.     Given the size of the population, especially in summer and with the advent of millions of visitors each year to La Zenia Boulevard Commercial Centre, it is irresponsible and dangerous not to have a police station open 24 hours a day.   Other important services like national police, Guardia Civil, ambulance and fire brigade would be housed in the Centre.
Health and Social Services
C.L.A.R.O. proposed opening a second Health Centre to deal with the health needs of an expanding population most of which live far away from the Cabo Roig-Campoamor  Health Centre with poor communication links.   A Day Care Centre with medical supervision providing activities for retired people is needed and could be easily be located in the Savia Care Home in Villamartin.   From the annual budget of €2m, the Alameda de Mar Civic Centre should be endowed with facilities and resources for all residents comparable to those enjoyed in Orihuela city.
Culture and Fiestas
There are no facilities on Orihuela Costa for those who organise choirs, theatre groups, and a range of social activities or a Library for leisure and study which all towns in Spain equal to the size of Orihuela Costa enjoy –  Orihuela city has two auditoriums and 3 libraries.   A Cultural Centre should be financed and constructed without delay.    The ideal site would be in the parking area of La Zenia Boulevard, part of which is municipally owned.   It would be a folly and a waste to locate such an important facility away from the centre of Orihuela Costa as is being suggested.   A share of the €1.5m annual budget to support Orihuela Costa groups such as AIDOC, to organise local fiestas is also needed.
C.L.A.R.O. supported a detailed proposal put forward at the hearing by a well known local resident which would be located in the La Zenia Boulevard parking area and would cover the varied cultural needs of residents.
Environment
The main proposal put forward was for active municipal support to Save Cala Mosca, the last green area on Orihuela Costa threatened with the construction of 1.500 new houses.   Thanks to C.L.A.R.O. and the intervention of the European Parliament construction has been paralysed and the project is under review by the regional government.
Many other subjects were covered by the C.L.A.R.O. document presented at the budget hearing including freezing local taxes which have increased substantially in recent years, decentralisation of services and manpower to Orihuela Costa, improving the inadequate Sewage system, Education, Sports and Transport.     The Mayor gave some indications of investments which might result soon from the reassignment of unused finance (remanentes).
The ball is now in the court of the Orihuela government to present a budget for 2017 which can meet the important needs put forward by C.L.A.RO. and others at the hearing and begin to redress the historical deficit of services and investments in Orhuela Costa.