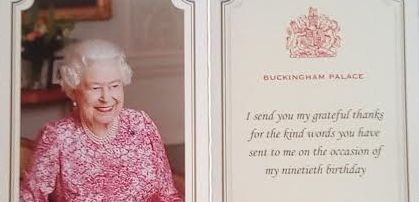 The Queen has acknowledged Los Montesinos Author Andrew Atkinson following a copy of his book 'Formby's Lost Love' being sent to Her Majesty as a birthday gift to celebrate her 90th birthday.
The Queen hit the headlines recently when it was revealed that she is a big fan of Wigan born ukulele legend George Formby.
Andrew, 59, received a letter from Lady-in-Waiting Susan Hussey saying: 'The Queen wishes me to thank you for your letter with which you sent a copy of your book Formby's Lost Love, for Her Majesty on the occasion of her ninetieth birthday.
'The Queen was very touched you have given her a present. I am to thank you, very much.'
In July it was revealed to the world that The Queen was an avid fan of Formby: "I know all his songs, and I can sing them. I love George Fornby," said The Queen.
It was reported that The Queen, who celebrated her 90th birthday on April 21, received a letter from the George Formby Appreciation Society asking her to be its President.
Her correspondence secretary noted: 'I don't honestly think, if you don't mind me saying so, this is appropriate; you're the head of the armed forces, the head of the Church of England, I don't think you can be president of the George Formby Appreciation Society.'
The Queen replied: 'Well, I do see that, but you see I love George Formby'. 'Really?', responded the secretary. 'Oh yes. I know all his songs and I can sing them.'
The Royal Family invited ukulele star Formby, who died in Preston on March 6, 1961, aged 56, to play for them at Buckingham Palace, when The Queen and her sister Princess Margaret were girls.
Formby, whose hits include My Little Stick of Blackpool Rock, When I'm Cleaning Windows, and Leaning on a Lamppost, also performed in front of The King and Queen at a Royal Variety Performance.
Two Royal Variety Performances took place in 1955, in London and Blackpool, with George Formby and Morecambe & Wise among the performers.
The George Formby Appreciation Society hold conventions four times a year in Blackpool; with numerous George Formby Society Branches throughout Britain also staging events.
Formby was engaged to Pat Howson on February 14, 1961, weeks after the death of his wife Beryl, who died at their Fairhaven, Lytham home, in December 1960.
Formby's Lost Love is the Biography of Preston born Religious Education teacher Pat, who had known Formby since childhood, the actor/singer being a close friend to her parents Fred and Kathleen Howson.
"To be acknowledged by The Queen is a proud moment for me. It just goes to show that George Formby still lives on in the 21st century, and remains to be loved, not just by the people, but that too of Royalty. She really did love George Formby," said Andrew.
To order a copy of Fornby's Lost Love; and the publication George Formby: The War Years 1939-45, Formby's Fiancee remembered: From New Zealand, email: lancashiremedia@talktalk.net