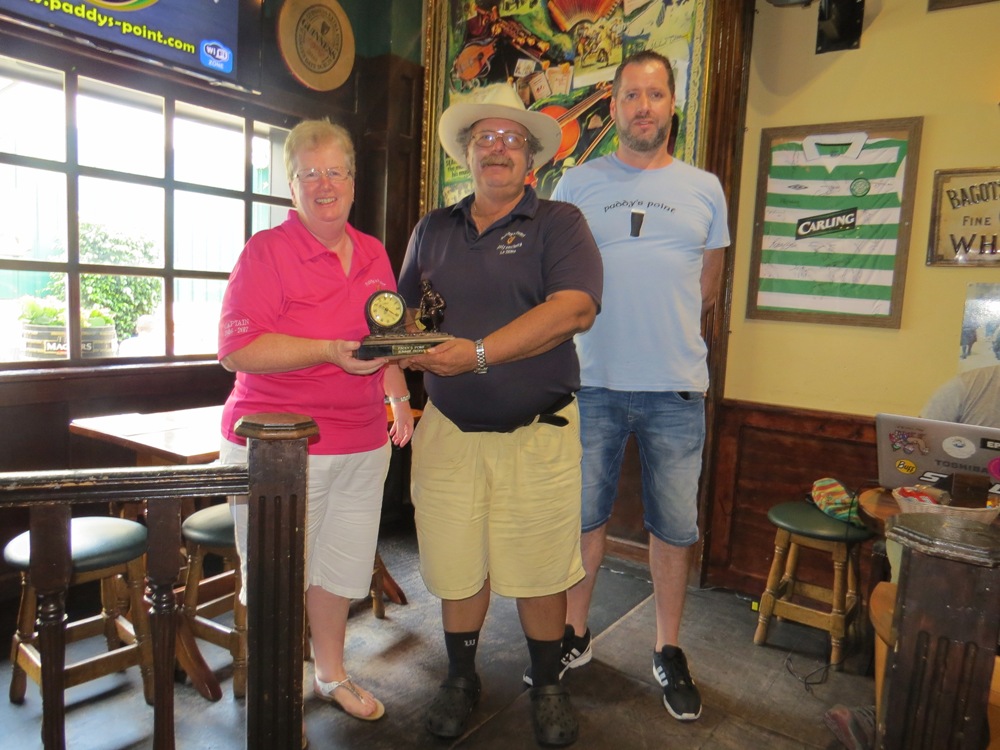 We had a smaller field than usual for our trip to RODA mainly due to the very hot and humid weather conditions however a nice breeze on the day helped us keep our cool (well some of us).
The course was again in excellent condition so thank you RODA, we all enjoyed our round.  Our winner for the second time in three outings was John Hillier with last year's winner, Eileen Moriarty, beaten on the count back.  Rory and Hazel and all the staff at Paddy's again deserve a big thank you, what a great pub and lovely people.
No 2's to report so pot rolled over until next outing.
NTP hole 2 Joe Adam, hole 7 Eileen Moriarty, hole 11 Tom Kenefick, hole 13 Jimmy Kiernan.
LONGEST DRIVE Tom Kenefick.  BEST GUEST John Battersby 40pts.
3rd Derek Burgess 30pts c/b, 2nd Eileen Moriarty 33pts, WINNER OF THE SUMMER TROPHY John Hillier 33pts c/b.
Our next outing is to MAR MENOR on 14th September.  Please note the Texas Scramble to La Peraleja on 31st August has been cancelled.
Picture shows John Hillier receiving the Summer Trophy from Captain Myra Coull with owner and Vice Captain Rory Lee.