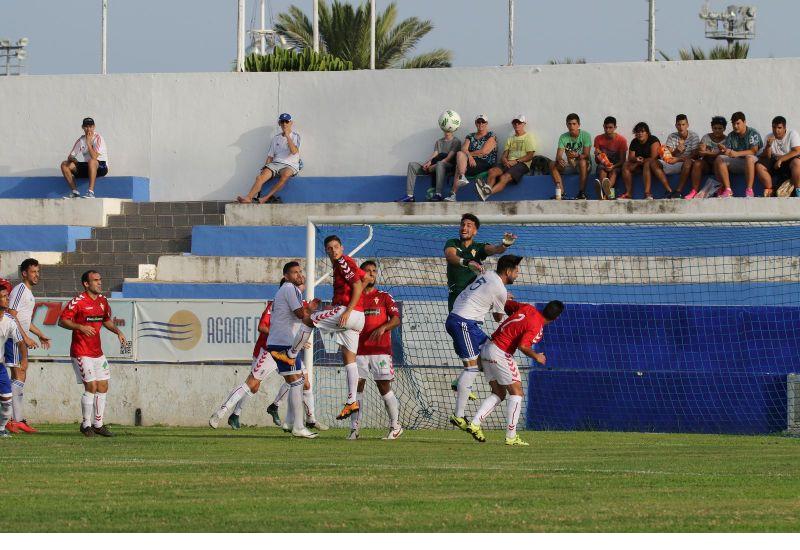 CD TORREVIEJA – 0   REAL MURCIA – 4
STEVE HIBBERD writes ……New manager Gabi Correa is certainly leaving no blade of grass unturned, as he continues to try out new blood in a totally new look Torry squad.  He has brought in another 3 experienced players since the Elche match, adding much needed support to his mainly youthful outfit.
Welcome Marcano, Zapata, and Pablo Navas ( the only 1 of the 3 to make his debut).  Marcano is a goalkeeper, who last season played with div 2b side Eldense.  Zapata a 27 year old striker, who last season played for div 3 champions Conquense, whilst 24 year old winger Pablo Navas can list Alcoyano, Lucena, Portsmouth and Cowdenbeath, amongst his previous clubs.
Against a side who last season only just missed out on play off promotion to div 2A, they were more their equal for long periods.  In fact, they left the starting block by far the quickest, coming close to scoring on 2 occasions within the first 5 mins.  Amongst the thick of the action was Cesar (a striker with an eye for a goal), who has returned to the club following his release early this year, joining Vicente as the only other member of last seasons squad on display (although both Martin and Luis Carlos were spotted in the crowd).
They were unlucky not to take the lead on 34 minutes, when Johnny´s acute close range shot smacked against the post before bouncing to safety.  This miss proved costly, for within 3 mins Roberto received a cross from the right just inside the box, before rifling a low shot past Torry keeper Oumar.  Only 2 mins later and the visitors had doubled their advantage, when a pull back from the dead ball line found Roberto, who again made no mistake.
From a corner on 42 mins, Jon Iru leapt salmon like to fiercely head home goal number 3, as the visitors were running riot.  On the stroke of half time, a well struck free kick rattled the cross bar with Oumar well beaten, and probably shell shocked at what had occurred during the previous 8 mins.     Once again, Torry changed the whole 11 players at half time, whilst their opponents chose to replace only 4 (although on 60 mins, another 6 substitutes were introduced).
Unlike last week, these young lads certainly put up a fight, not conceding the 4th goal until the 78th min, when a well struck drive found the inside of the far post.  Congratulations must be given to referee Perez Alcocer, who officiated this pre season friendly sensibly, choosing not to issue a single caution throughout the whole 90 minutes.
Torry 1st half eleven –  Oumar, Vicente, Costa, Pastor, Abraham, Pajaro, Matheus, Pavon, Johnny, Cesar, Pablo Navas
Pinatar Arena is the venue for Torry´s next match, where they meet Real Murcia Imperial on Sat 6 Aug, ko 7pm.