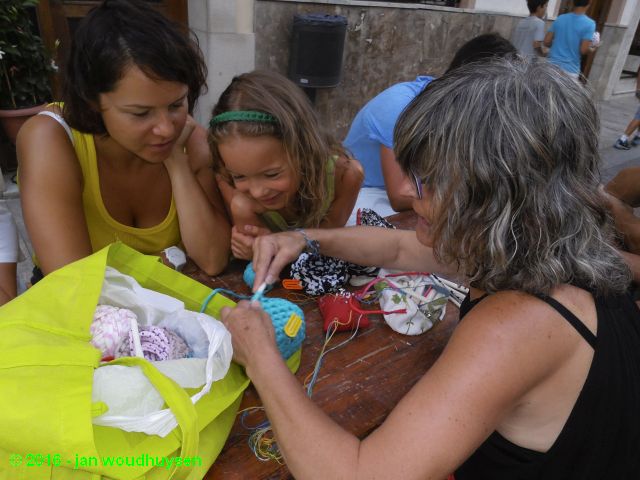 The Craft Fair that is being held in Calp (or Calpe) is attracting more and more tourists these days to the town's picturesque old centre.  They climb the steps up into the old town, visit the fair, stroll along the narrow streets, and many stay to drink or eat something on one of the cosy terraces set up in the streets and little squares of this part of the town.
The Craft Fair is small but select: all participants are real craftsmen and women, offering only their own work – hand made pieces such as pottery, paintings on Spanish roof tiles or recycled glass, crocheted handbags and jewelry made of different materials such as silver, glass, macramé or even dried orange peel.  All nice work, and every bit is unique.  Not something you will see over and over again in the pound shops.
From 3 till 11 August there is one more reason to visit this oldest part of Town, to watch the processions and activities that are part of the Fiestas in honour of the patron saint – see the programme at http://www.nuestrasfiestas.com/alicante/fiestas-en-calpe/fiestas-de-calpe/.  The most important procession will be held on Friday the 5th of August at 8:30 pm and will actually pass along the calle Libertad in which the craft fair is held.  That evening the craft people clear the way for Nuestra Señora la Virgen de las Nieves and most of them build up after the processión has passed; while some, who have to come from far, take the evening off.
Calp Craft fair starts every evening (except on 5 August!) at 7 pm and goes on till late.  It's set up in the calle Libertad, right in the middle of the old town.  You can go up to the Old Town in the tourist train which stops a mere 100 yards from the fair – this saves a strenuous walk if you come from the beach.  For more information you can ring 639 979 678 and speak to Elvira in English.  You can even look at some of the work on http://www.amata.es/CalpSum16.html.