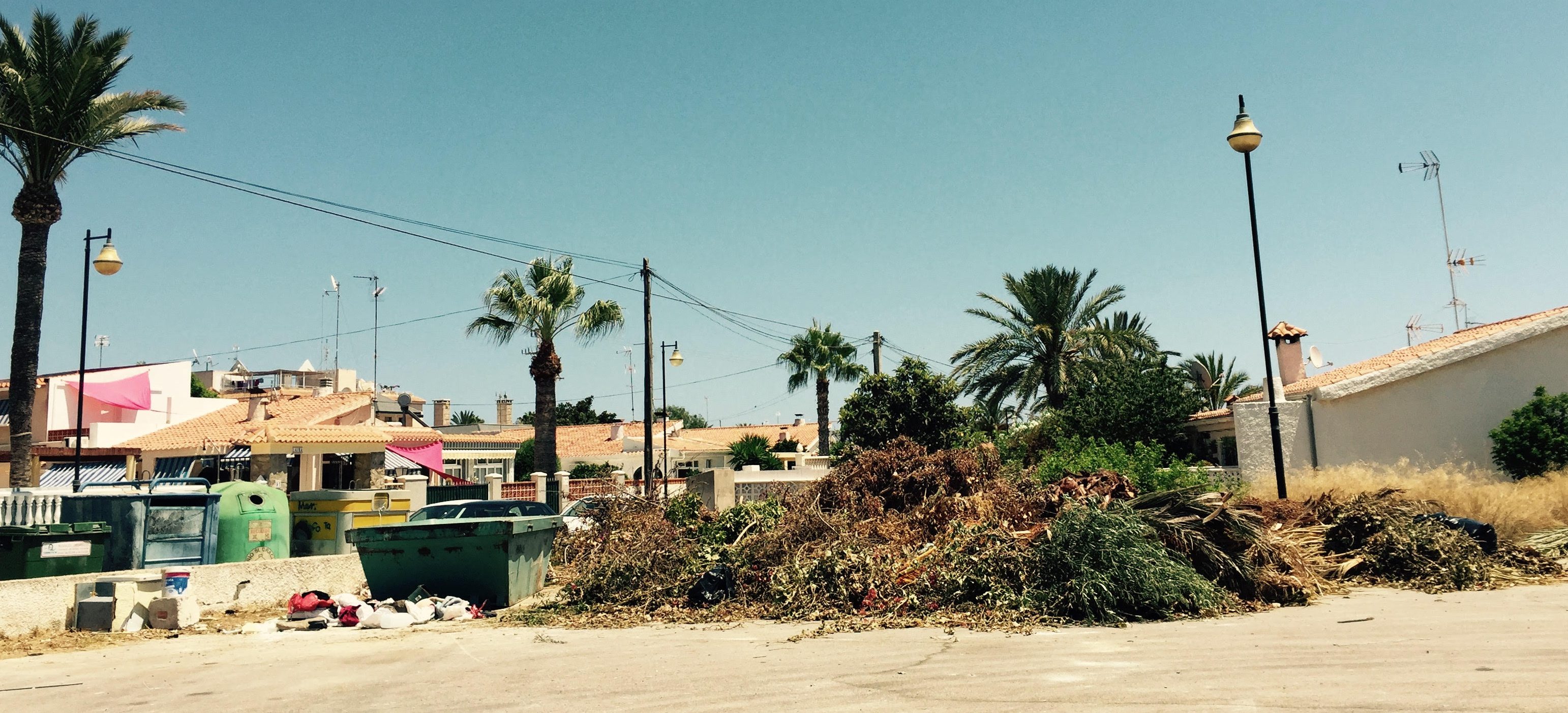 It's not only the Orihuela Costa that is being opening criticised by residents who are fed up with the inadequacy of the refuse collection system, and the unacceptable amount of waste that are spilling over onto their streets, as many of their near neighbours from Torrevieja are now 'up in arms' about the intolerable levels of prunings, palm trunks, debris and furniture, that have accumulated recently in the Plaza de Los Halcones, close to the beachfront at Los Locos, in the town
"The area has become a real dump. Anyone and everyone is using is to offload their waste. Indeed many people I have spoken to think that it is an authorised tip," said an indignant local resident Pilar Monera.
It used to be quite a pleasant area said Victor Lafuente, but what began as a single builders skip has now grown into a dangerous and unhealthy dump that has substantially changed the appearance of the square and its surrounds.
"All that we want is a clean place to sit and relax with our neighbours and our friends and the green areas restored," he said.
It would now seem that even some tempers are also beginning to fray as residents have shown their displeasure with the attitude of some people who continue to drop off their rubbish in a serious lack of respect for the people who live adjacent to the site. "Service workers just walk or drive on by paying little heed," added Lafuente, "and nothing is ever done."   "There have even been a number acts of vandalism even including someone setting fire to the container."
The residents are calling for the tip to be cleared and the park restored to it's former glory. They also want clear and visible signs to be erected warning people of the consequences of tipping waste on unauthorised land.
Meanwhile on the Orihuela Costa the councillor for street cleaning, Noelia Grao, appeared at a press conference last week outlining the action she is currently taking to ensure that "coastal residents get the service that they deserve."
Under fire from opposition councillors and resident groups she said that she now had 44 people from the Employment Promotion Plan, who are carrying out tasks of clearing and cleaning streets and landscaped areas. She had also increased the number of staff, hiring 18 temporary workers and extending the working hours of 18 others, although she didn't exactly specify where the additional staff and hours would be used.
She also said that she had increased the number of refuse containers in use on the coast to 70.
"All these reinforcements and additions will help to  streamline the maintenance and cleaning activities on the Orihuela Costa," she said "in order to ensure the service that residents deserve," particularly during the peak summer season." "We are making every effort to maintain the cleanliness of the coast, cleaning the beaches and emptying bins."