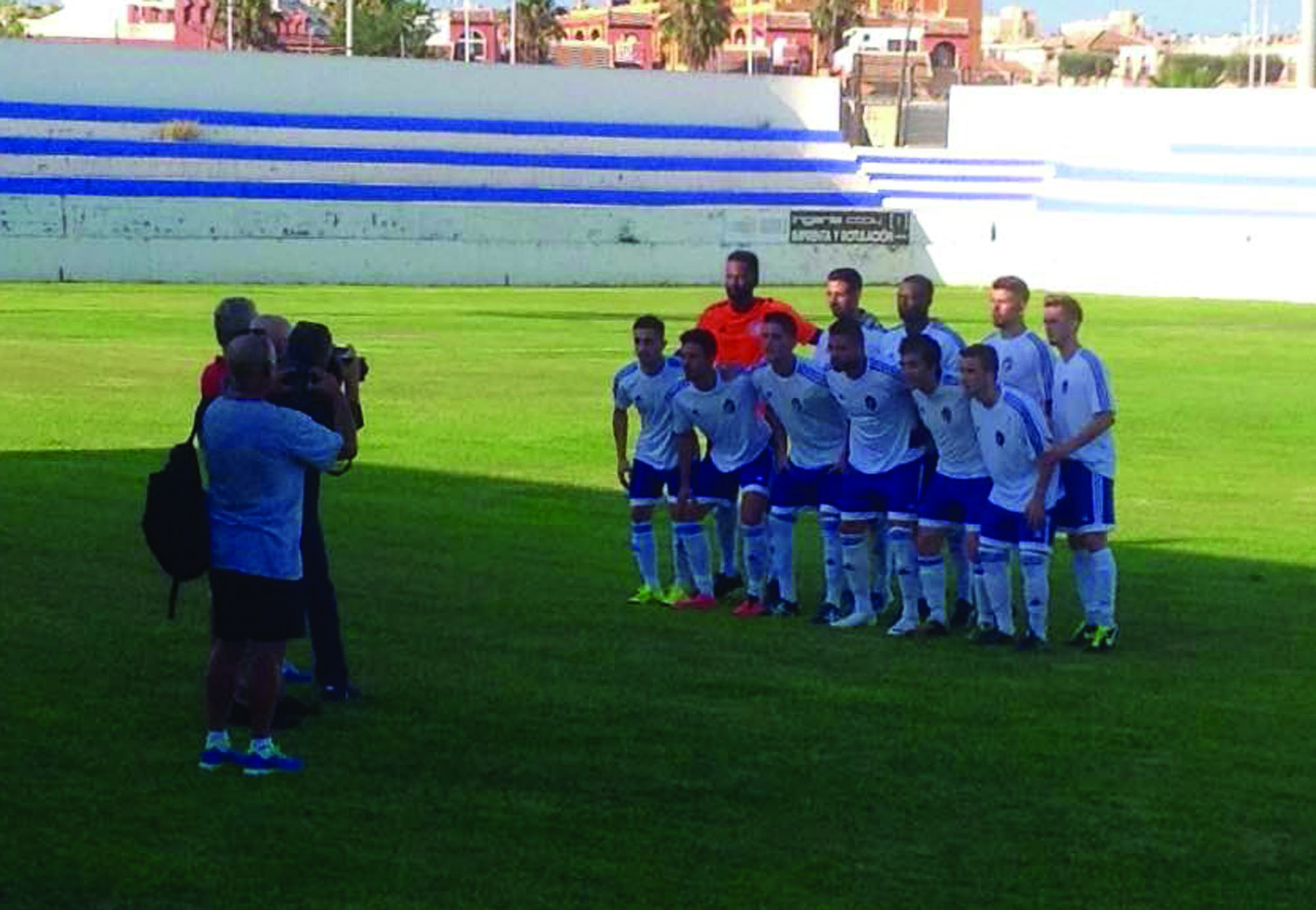 CD TORREVIEJA – 0    ELCHE – 4
Vicente Garcia Stadium housed a fair sized crowd for this local pre season friendly, in which the hosts kept their more illustrious neighbours down to a single goal for 75 mins.  New manager Gabi Correa fielded a predominantly youthful side, which included only 3 members from last season.  It should have been 4, but local lad Burguillos of 6 seasons service, decided that it was impossible to combine training with his full time job – adios Burguillos and best of luck for the future.
Wearing numbers 2,3 & 5 were Vicente, Luis Carlos and Martin, whilst the rest were totally unknown to Torry fans.  Captain for the day was Pastor, who can boast Hungarian div 1 side Ferencvaros as one of his previous, is a new Torry acquisition, along with Abraham, signed from Almansa, but unfortunately he wasn't on show.
Elche almost took the lead after only 3 mins, but new keeper Oumar produced a worldly save to deny them.  It didn't take much longer for them to find the net, for 6 mins later Pedro Montero drilled a fierce low drive through a crowded penalty area, somehow finding the smallest of spaces just inside the far post.  Torry fought back well, Toni forcing Elche's keeper to pull off a top drawer save to deny him an equaliser on 12 mins.  Elche then took control, dominating the remainder of the half.
As per normal in friendlies, sweeping changes were made in the 2nd half, in fact the whole ELEVEN players were different for Torry, but only 4 for Elche.  A now totally inexperienced Torry side were no match for their experienced opponents, who were rampant throughout the 2nd half.  Elche's 2nd goal was a sweet close range volley direct from a corner on 75 min, then 3 mins later it was like a knife slicing through butter, as they easily strolled through the defence for goal number 3.  By the time Pedro Montero had converted the 4th goal on 83 mins, it was a case of "please ref, put us out of our agony", but all in all this was an entertaining spectacle for those that viewed it. 
Torry kick off the new season against newly promoted near neighbours Almoradi on Sun 21 Aug, but before that they play friendly number 2.  Make a note of Sat 30 Jul, ko 7.30, when div 2b side Real Murcia will visit Vicente Garcia Stadium.
BY STEVE HIBBERD