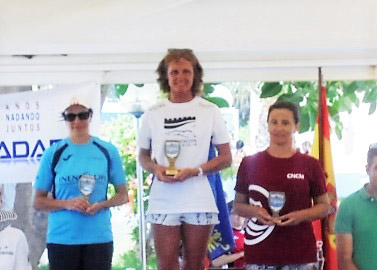 On Saturday 3 of the clubs team travelled to Benidorm for the XVII Memoria Juan Fuster Zaragoza Trophy.
Race divided into age categories saw Amy Connolly swim first in 50m freestyle and gained a new personal best of 38:39 knocking 3 and a half seconds of her previous time. Then Skye Burns came a close 4th in her 50m freestyle Infantil category (32:56).
Zoe Connolly swimming in the last individual race of the day worked hard in her 100m Individual Medley race to knock 2 seconds off her recent PB and winning 3rd place with an added prize of a free ticket to Aqualandia, Benidorm. Well done girls an excellent end to the season.
Then Sunday all were back in action, this time sea swimming at Torre de la Horadada. This year the organizers reversed the course making all 4 races swim anti-clockwise around the bay, constantly against the tide and wind.
This was the hardest race from the last five years of competitions at this location. Amy made a good swim in the 500m race being placed 9th in the Alevin category with a time of 12:09. Next it was time for the furthest distance race – 1500m. Zoe came in before her other team members being placed 6th in her Alevin category, with a time of 26:40.
Shortly followed by Skye, a year younger , but in the same category with a time of 29:00. Next in was Vicki Connolly in theWomen's  Masters 50+ category. Vicki won 1st place for her category. Teammate Beryl Altabas came in 5th in the same category with a time 36:15.
Well done to all – looking forward to the next season starting in September.