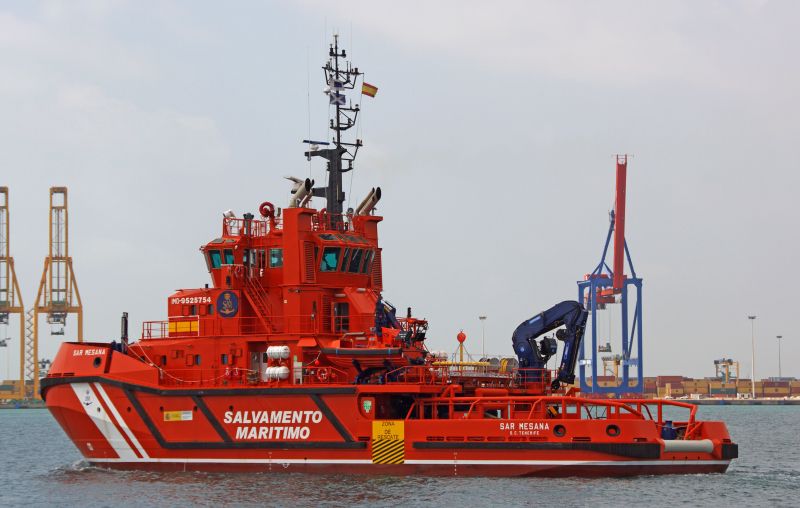 The mayor of Torrevieja, Jose Manuel Dolon, visited the Maritime Rescue Vessel SAR Mesana last week where he met the Capitán Marítimo de Alicante, Cayetano Pérez Pérez and the Chief del Centro de Control de Salvamento Marítimo de Valencia-Alicante, Antonio Padial Sayas.
The rescue vessel is currently docked at the Muelle de la Sal in Torrevieja from where it will operate during the coming months in response to the needs of the maritime emergency rescue service or as a towing vessel to assist those boats that find themselves in difficulty.
Captain Jorge Garcia showed the visitors around the ship as he explained the previous service and background of the SAR Mesana as well as the operation of the main ship rescue systems and its capabilities.
The mayor said that he was delighted that the request of the Harbourmaster, Rafael Rodriguez Valero, had not been ignored by the Ministry of Development and that he city was getting, albeit temporarily, the rescue mechanisms tailored to their needs. He said that the port would no longer be at a disadvantage to the many other Spanish coastal ports that do have this type of rescue craft.
He said that the ship was already proving its worth as in the few short days that it had been in port it had already responded to a possible drowning and to the assistance of two fishing vessels that had found themselves in difficulty.
The mayor said that it was therefore imperative that the SAR Mesana or a similar vessel be permanently moored in Torrevieja harbour as a major coastal resort and as such he has once again reiterated his request with an urgent petition to the Government of Spain.