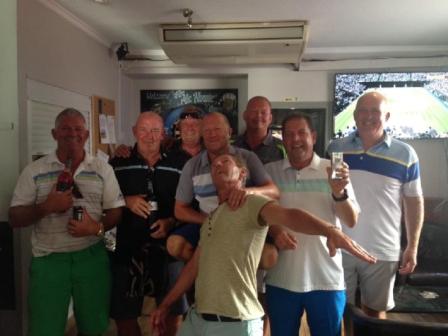 Once again we welcomed 20 players to Vistabella Golf on Sunday 3rd July.
Scoring was difficult as high winds made many of the holes extremely difficult. However our newest member managed to defy the winds and score an impressive 37 points scooping our top prize of 50€. 2nd place went to Kev Rose who took home 30€ scoring 31 points pushing Ron Temple into 3rd place on count-back.
Our guest prize went to Franck Case with 28 points who pipped Darrell Rose to first by 1 point.
3 nearest the pin prizes were up for grabs which netted the winners 15€ voucher for the Alehouse. Unfortunately the wind played a major part in limiting success. However, Phil de Lacy won on the 4th, no one managed to Holme green on the 8th  Simon Harmon managed to grab the prize on the 15th. Our nearest the pin prizes were kindly sponsored by Magenta Financial Services.
Owing to the difficult decisions the 2s pot will carry over to the next event.
Following the golf, our prize giving takes place at The Alehouse in Villamartin Plaza where we are welcomed with hot and cold food buffet which always goes down well with our members!!!
The drinks were flowing with DJ snoopy playing tunes that some of our members just couldn't resist to join in with some singing and dancing. Most notable Kevin "rubber legs" Rose, John Griffiths and Nick "Snake hips" Spicer who "cut rug" proving its not just for the under 30's. All in all, great fun.
Our  next event is on Friday 15th July at Las Ramblas. If you are interested please see our Facebook page or put your name up on the list at The Alehouse. Meet at Las Ramblas no later than 0900. Look forward to welcoming new and existing members.