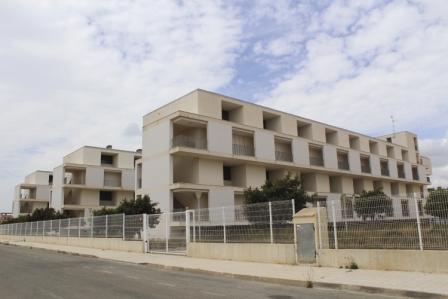 Following the meeting 3 months ago between Blanca Marín, the Director of the Regional Infrastructure Authority (EIGE), and Emilio Bascuñana, the mayor of Orihuela Orihuela the council has released 21 apartments for sale in one of the three abandoned apartment blocks that are located across from Villamartin and Los Dolses in Calle Canela.
The announcement was made last week by PP Councillor Rafael Almagro who said that the flats are being offered at an average price of 70,000 euro, discounts of approximately 45% from their original market value when first built as social housing a little over six years ago.
The 21 apartments are the first batch being offered in a sale that will eventually see all 63 apartments sold at cut price rates.
Properties vary in size from 55 square metre starter homes to those for larger families of 110 metres. There are also plus duplexes of 90sqm and 86 square metre apartments that have been adapted for occupants who are disabled.
Councillor Sofia Alvarez, said that buyers will qualify for special financing conditions allowing them to purchase the properties for just 147 euros per month. Interested parties may arrange visits through the Ayuntamiento.